Houston Texans running back Arian Foster suffered a ruptured Achilles tendon in the Texan's 44-26 loss to the Miami Dolphins on Sunday.
Foster had a MRI which confirmed the diagnosis yesterday as reported by ESPN. The injury occurred away from the football and Foster was not contacted during the play. Foster said, "Just a routine play. Trying to make a cut, gave out on me."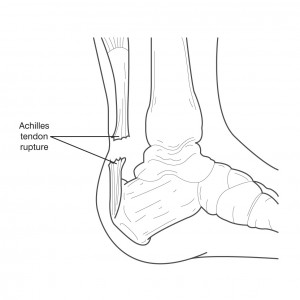 Achilles tendon rupture is a complete tear of the tendon when it is stretched beyond capacity. This can happen when there is forceful jumping, pivoting, and sudden acceleration when running. The tendon can be injured from falling or tripping. Achilles tendon ruptures are most commonly seen in "weekend warriors" – participating in sports in their spare time. In rare cases, steroids or certain antibiotics can weaken the tendon and lead to ruptures.
Signs and Symptoms
Sudden pain in the back of the ankle. Feels like a kick or a stab.

Popping sensation

Swelling in the back of the leg

Difficulty walking
Treatment
Non-surgical treatment
Most research shows this is associated with higher rate of re-rupture, used for less active patients or those with medical conditions that prevent surgical repair.
Surgery
Surgery decreases the likelihood of re-rupture of the Achilles tendon. Surgery increases the patient's push-off strength and improves muscle function and movement of the ankle. Surgical repair allows patients to start physical therapy and rehabilitation faster.
Following surgery, the foot and ankle are immobilized in cast or walking boot until the tendon begins to heal which is around 6-8 weeks. Early rehabilitation is important part of the recovery process so preserve the malleability of the tendon.
Kobe Bryant is another notable athlete who suffered an Achilles tendon rupture on April 12, 2013. His

timetable

for return was as follows:
April 13th – surgical repair of Achilles tendon

May – rehab begins

August – begin running and jumping while slowly increasing weight on healing Achilles tendon

November – begins light drills at practice

December 8th – Bryant returns to his first basketball game after surgery
Arian Foster will be out of the season for the rest of the year and the surgery is typically performed in 1-2 weeks. If everything goes as planned, he should be able to return to training camp healthy in 8 months.
At Greater Houston Foot and Ankle Specialists, we treat Achilles tendon ruptures and Achilles injuries. If you are experiencing pain in your Achilles tendon,

make an appointment

with a podiatrist.